King Bhagiratha does tapas to petition Lord Siva to allow Ganga to come to earth, but the earth...
Vishnu and Balivamana The story emerges from a line in the Rig Veda: "Vishnu strode over this universe: in three places, he planted his step".
She says "When the sight of an angry tiger, the deers flee, same way with the rising of an angry sun (shining bright) the darkness fades away" Avvaiyar is a famous Tamil Poet/Saint
TOP: Shyama Shahtri sings a raga and devastates the shop with fire BOTTOM: Muthuswamy Dikshadar sings amrithavarshini raga...
to be entered after translation
Two women track a horseman who flees in the distance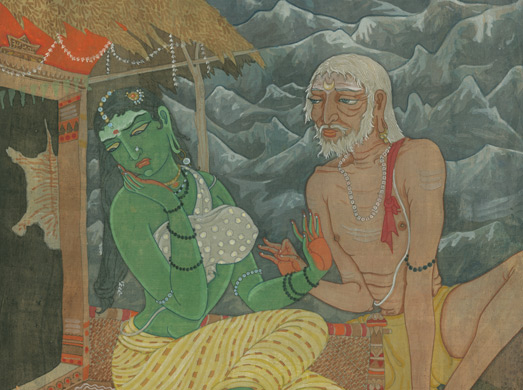 Maiden spurning Old Man--Shankuntala?
The Story of Kannaki, comes from the Tamil poem Silapathikaram. Kannaki's husband was executed mistakenly, and her rage...