The tens of millions of hindus who came to the Kumbha Mela at Haridwar this year were nearly...
Hinduism is a celebratory religion, and nowhere can this be seen more clearly than in the yearly cycle...
Insights into the annual celebrations celebrated by Hindus the world over.
1. Kaaradaiyaan nonbu - Savithri argues with Yama for her husband. 2. Mahasivaratri - Kannappanayanar puts bilva leaves...
A Marriage around a homa with God watching over it
4 scenarios; people sitting, priest with fans, Vishnu, Parvati and Siva, Yama
5 scenarios; 6 headed god sitting, sad man with happy women behind him, people carrying water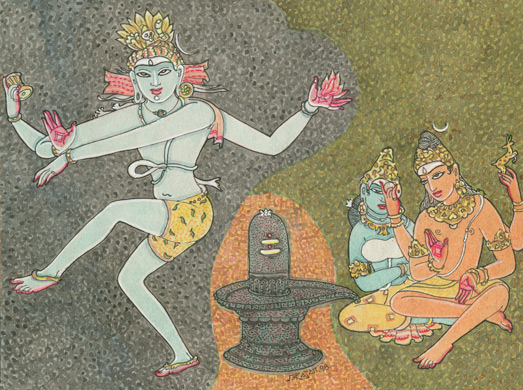 The Three Perfections of Siva: Siva/Shakti (Ardhanarishvara), Parameśvara (Nataraja,) and Paraśiva (Sivalingam)